2005
december 14, 2005
november 10, 2005
October 29, 2005
| | | |
| --- | --- | --- |
| | | may we advice you to listen to Ernie Payne! in my opinion it's a style between Ry Cooder and Hiatt's "crossing muddy waters" and i think you really have to check him out. more information about ernie payne can be found here: http://www.crossroads.nl or listen here. |
October 21, 2005
more photo's of this European tour can be found under downloads > pictures > fans.

After a short European John Hiatt tour we can expect a tour from a few other great artist in November. What about Peter Case, John Doe and Michael Weston King? More details here.
october 16, 2005
october 8, 2005
visit chords for 2 "new" songs.

added some old tourdates from 1997, 1998 and 1999.
october 7, 2005
september 18, 2005
visit "downloads > mp3" to listen the rarest songs.

visit "downloads > other" for some funny ringtones.
September 17, 2005
September 8, 2005
Live from Austin Texas. Release date November 1. More info here.

Full House. Release date September 23. More info here.
August 28, 2005
August 19, 2005

(This Hiatt mention was in the weekly roundup of celebrity birthdays in the San Diego Union-Tribune)
august 8, 2005
August 7, 2005
First european tourdate: october 18, KB Hallen in Copenhagen, Denmark. More info here. (thanks Laus)
august 5, 2005
July 30
July 29
July 26, 2005
july 17, 2005
july 16, 2005
july 13, 2005
July 7, 2005
july 3, 2005
John Hiatt visit the NPR studio on June 28. Listen now to 4 recordings from that day. Click here.

in the early 90's there was a john hiatt fanclub named "in the john". 15 years later here on the archives we like you to take a look in to the fanclub magazine. today we present you volume 1 (may 1990). surf to " collectors > in the john " or simply click here.
june 28, 2005
June 21, 2005
Here we are with a new lay-out of the Hiatt Archives. Just browse around a bit and found out the new stuff that's here.

till now we've done a lot of work on the discography (much more information on the albums). In the future we will upload much more new stuff, so keep visiting the john hiatt archives.

the old archives is still available here.

be sure you're not using the browser "opera", cause possible you can not see the navigationbar.
what can you expecting in the future:
much more photo's.

much more articles from the internet.

much more facts on the biography (and if you like to contribute... please contact us)

much more about an old john hiatt fanclub "in the john".

less more "under construction" pages :-)
May 13, 2005
Check out tourdates!

Pre-order the next John Hiatt album on amazon.com, get access to a stream of the album. Click here to order.
 
 
 
 

street date: june 21, 2005

 
 
 
 

1

Master Of Disaster

5:26

2

Howlin' Down The Cumberland

3:45

3

Thunderbird

4:04

4

Wintertime Blues

4:19

5

When My Love Crosses Over

4:21

6

Love's Not Where We Thought We Left It

5:17

7

Ain't Ever Goin' Back

5:40

8

Cold River

5:34

9

Find You At Last

4:48

10

Old School

3:18

11

Back On The Corner

3:52

 
 
 
Again a great New West Records Album
 
 
 

All songs written by John Hiatt

 
 
 

Produced by Jim Dickinson

 

John Hiatt - vocals, guitar

Luther Dickinson - guitar

(north mississippi allstars)

Cody Dickinson - drums

(north mississippi allstars)

David Hood - bass

 

CD is being released as a Hybrid Super Audio CD. This CD plays on all CD players, including CD players with SAC/5.1 Surround Sound.

 

Digipak NW6076
april 22, 2005
march 11, 2005
February 25, 2005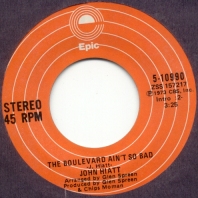 February 8, 2005
Be sure to check out our tourdates!!

Are you a John Hiatt music lover? Let's do a little test here

Check out Vanguard Records website and found out about 2 other artist on that label. Coming soon on vanguard records: Deana carter "the story of my life" and also Shurman "Jubilee". 2 great albums that i heard and you also have to hear!!
February 5, 2005
John Hiatt Records New Album at Ardent Studios      ProSoundNews   Ardent Studios

Memphis, TN (February 2, 2005)--John Hiatt has recorded his new album at Memphis' renowned Ardent Studios, in what is described as the very first sessions to use a "real world" DSD recorder. Produced by Jim Dickinson and engineered by John Hampton, the New West Records album features Luther and Cody Dickinson of The North Mississippi All-Stars on guitar and drums, with David Hood on bass.

Gus Skinas, president and CEO of Super Audio Center LLC., developers of the Sonoma-24 Direct Stream Digital recording and editing system, was on hand to supervise the new technology. Skinas explained, "John Hiatt's session at Ardent was the very first session to use a 'real world' multitrack DSD recorder. DSD, or Direct Stream Digital, is a new and different technology for recording audio. It is a step as significant as the move from analog to digital recording in the early 80's. In stead of recording 24 bit words at a rate of 96 thousand times a second, it records a very fast 1 bit sigma-delta stream at a rate of 2.8 million bits a second. It is a signal much more analog-like in sound and appearance, but it can still be digitally copied and processed.

"While there are some devices out there that can record multitrack DSD, the Sonoma-24 is the only one that can do this and provide the overdubbing and editing capabilities that everyone is familiar with, given the power of today's workstations," Skinas continued. "When used in a state-of-the-art analog studio such as Ardent, the final product is free of the sonic restrictions one finds with typical digital production. This will be most obvious when John Hiatt's new SACD is played on an SACD player that uses the same DSD technology to playback the recording. It will also be noticeable on CD's and MP3's. As well, because the better the master, the better the final product."
Januari 22, 2005
Howdy folks, haven't being around here for a long time myself because there was nothing new to tell you about John Hiatt. And still there isn't. John is still busy with touring around in the U.S.A. (visit tourdates 2005 for most recently tourdates) and probably after this tour he will continuing  working on the new album. In the meantime

We thought about our downloads to go on with it or quit for a while. We decided to stop with it cause we haven't receive any feedback of our visitors. If we feel the need to go on with in, we will drop a note here.

We also thought about a new look for this website....... We are so busy with other things, that we haven't had the time to work on it. On the other hand.... do we need a new look? I think we can change the lay-out a bit and make the navigation more easier then it is now. Any volunteers to help me?????

If you haven't notice yet... on the official john hiatt website there is also a discussion forum now. Some new updates on the official site too.

did you visit the records company website lately??? A new look and a lot of new possibility's for us all!!! go there!! http://www.newwestrecords.com

by the way...... have a great 2005 with a lot of joy of music (Hiatt?).